SRIJAN began its field operations after registration as a public charitable trust in January 2000. Our first project started in Sagar, Madhya Pradesh in November 2000. Since then we have expanded our operations to 5 states and 15 districts, working in close to 750 villages, with over 2000 SHGs and almost 40,000 families. We have delibetrately chosen to work with the socio-economically disadvantaged, particularly women, dalits and tribal people, as they need empowerment the most.
Keeping our vision and mission in mind, as well as the environmental factors and demands of the communities we work with, SRIJAN is engaged in the following broad themes: Community Insitution Building, Agriculture, Horticulture, Livestock and Natural Resource Management. We primarily work with women and provide livelihood support through the concept of Self Help Groups, constituting of and managed by women. Our team works with the SHG members, motivating them, educating them about the latest techniques and best practices; assisting them with procurement of inputs, production cycle and finding the best price for their produce. We also help them get access to finance through bank linkages. Once SHGs are deemed satisfactory, they are clustered into village level bodies and after an incubation period, further coalesced into federations. Once federations are self-sustaining, SRIJAN plans a retreat from daily management but continues to provide support and consultation.
Livelihoods Promotion Model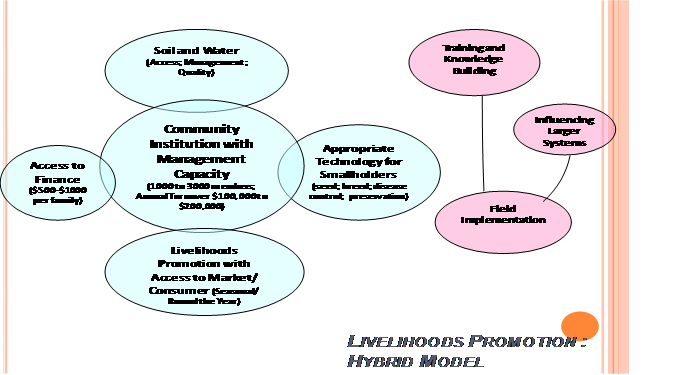 This figure shows the five areas of inputs or interventions required in the field to establish a livelihoods cluster: (i) organizing the poor and investing in their leadership and management capacity at all levels. (ii) Soil and water related: soil health, access to water (organic inputs made up of cow urine and cow dung); (iii) Appropriate technology related to seed, breed, pest and disease control, preservation and processing post-harvest (farming or animal husbandry practices); (iv) Access to market; and (v) credit access.
Odisha: Anugul
Chhattisgarh: Koriya
Karnataka: Mundgod, Haveri
Rajasthan: Bundi, Duni, Pratapgarh, Pali, Newai
Madhya Pradesh: Jaisinagar, Anuppur, Jatara, Chhindwara